Grilling sockeye salmon is simple and adds great flavor 
Grilling involves cooking food on a rack over a heat source. You may use an indoor stovetop grill, or opt for using your outdoor barbecue grill. The direct heat quickly sears the outside of your salmon, producing a distinctive, charred flavor and a palate-pleasing crust. 
Select your wild salmon carefully
Select premium wild-caught sockeye salmon. Salmon from The Popsie Fish Company will already be cut into filets (or portions) and have bones and scales removed. 
Prepare your grill and your wild salmon 
Be sure your grill is clean. Lightly oil it, then preheat to high heat.  
Drizzle your salmon filet with olive oil, both sides, then season generously with salt and pepper (and perhaps with other spices - see below.) Taste is such an individual thing, you may prefer just the robust, smoky flavor of your salmon simply sprinkled with salt and pepper. 
If you want to experiment with other flavor enhancers, the following herbs and seasonings are most often recommended for salmon: parsley, dill, basil, tarragon, sage, rosemary, thyme, cilantro and fennel. 
After you've seasoned one side of your filet, flip it over, skin side up, and repeat with the same seasoning on the other side. 
Grill your wild salmon
Place your salmon filet skin-side down on your hot grill. Add your favorite fruits or vegetables to the side of the grill, if desired. Cook salmon for about 5-6 minutes and flip over; cook for 2-5 more minutes or until done, and remove from heat. You'll know your salmon is getting done as it loses its transparency and begins to flake easily.
Wild salmon can go from moist and flaky to tough and dry when it's overcooked, even by just a minute or two, so watch it carefully the last few minutes. Taste-testing is part of the fun!
Serve with or without the skin (which is delicious and nutritious). Place on a bed of greens, add your grilled fruits or vegetables and enjoy. Read this article for some delicious ideas on side dishes to serve with salmon.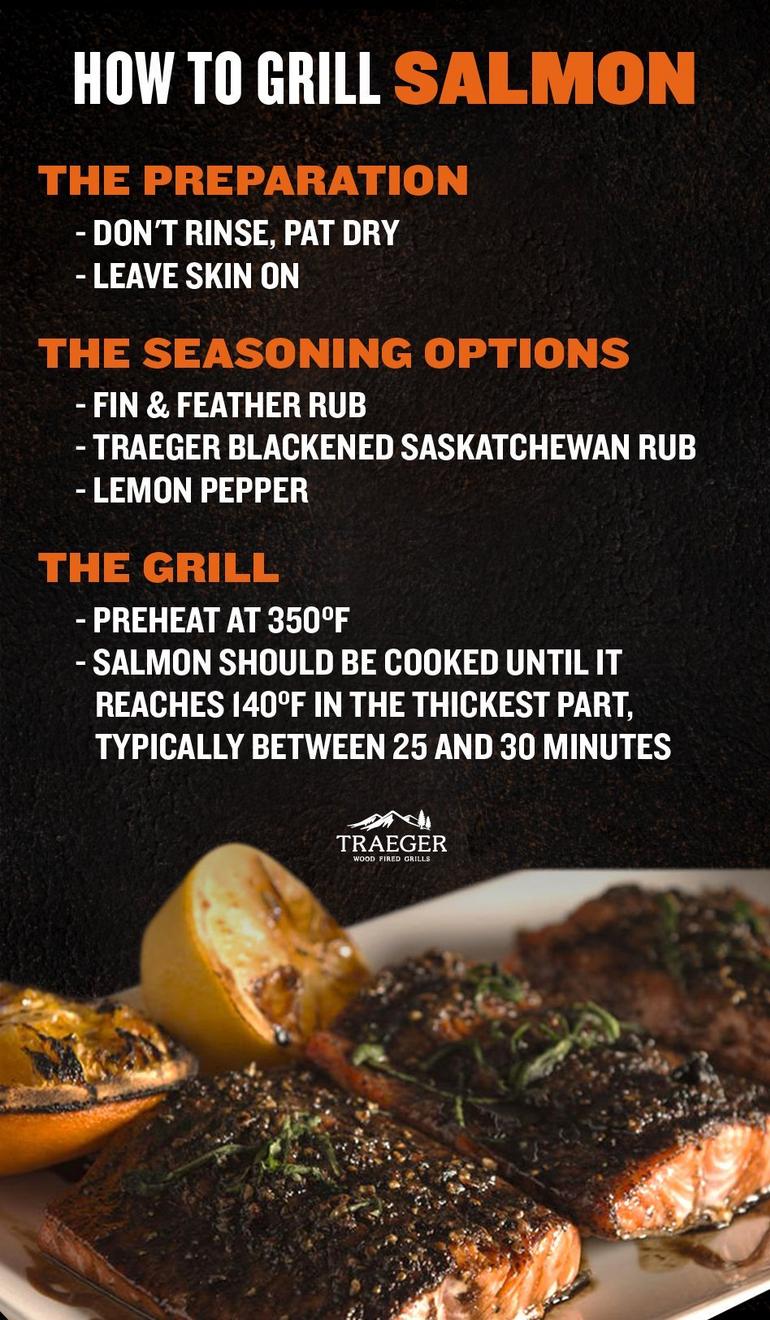 Image Source: Traeger Grills.

Learn these fast, easy steps to a perfect piece of grilled salmon from Chef Kevin Benner formerly of Aqua by El Gaucho.